Preventing cracking, scaling, and crumbling when pouring concrete in the cold winter months - what are the best practices?
When curing concrete in cold weather, it is crucial to avoid freezing during the early stages.  Freezing can result in a reduction of up to 50 percent in the ultimate strength of the concrete, which can result in cracking, scaling, and crumbling of the concrete. The American Concrete Institute (ACI,

ACI 306

) specifically defines the temperatures that potentially lead to problems with freezing of the concrete.  These are when the average daily air temperature drops below 40 degrees Fahrenheit for more than three successive days and if, for more than one-half of any 24 hour period, the temperature stays below 50 degrees Fahrenheit.



When temperatures fall into these troublesome ranges, what can be done to protect the curing concrete from cracking, scaling and/or crumbling?
Crumbing Concrete
Scaling Concrete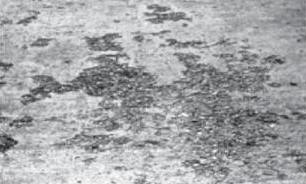 Cracking Concrete